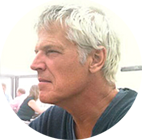 Klamboe Collection ® was founded in the early eighties by Edwin van Hellenberg Hubar. After his study of Economics, he traveled to Asia and started the mosquito net business. It was the pure simplicity of the mosquito nets that fascinated him. A sympathetic simple and very effective solution to an annoying problem: buzzing and stinging mosquitoes , of which Amsterdam has a lot because of her canals and old houses.
There is no use of unhealthy solutions like toxic sprays, tablets or electric devices. The simple and obvious way is often also the best way for yourself and the environment.

It's basically a taoistic approach in coping with nature's volatility. It's wiser not to fight natural setbacks unless it's really unavoidable. It's better to go with nature instead. That's Edwin's simple philosophy why he got into this business.
Edwin was the first person to introduce mosquito nets into many European countries.
Since many years now Edwin is working together with his compagnon Saskia van Vollenhoven who is the creative director of Klamboe Collection ®.

All of the mosquito nets are exclusively produced for Klamboe Collection in different materials, models and colours All nets of Klamboe Collection ® are long-lasting. and nicely finished with sheeting borders along the openings and bottom of the nets.
The mosquito nets of Klamboe Collection ® are not only useful, but also very decorative and provide an elegant atmosphere in any bedroom.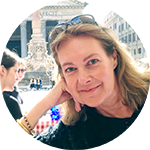 Saskia van Vollenhoven (1963) worked as a makeup artist for over 10 years, for numerous well-known movie and television productions. For over 20 years, Saskia has been the life partner of Edwin and partner at Klamboe Collection. Saskia's function includes the creative direction of the company. As such, amongst others, she developed the 6-sided canopy mosquito net, which has now been patented and is one of the hottest items within the large range. Moreover, Saskia has ensured that all Mosquito Nets and Mosquito Net related products are matched, allowing for the creation of a true Mosquito Net range which is now being distributed worldwide.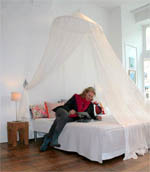 Aside from a mosquito net being functional, Saskia' vision is to allow a mosquito net to determine the atmosphere.



There is a suitable model for every space and style. There are colorful children's mosquito nets, large luxurious round models, lightweight travel mosquito nets and rectangular design mosquito nets. The newest models are made from bamboo. Mosquito net fabric made of bamboo did not yet exist, so Saskia took it upon herself to travel to the Far East, where many products are being made from bamboo. There, she discovered the many advantages of bamboo fiber. "It has a thermal effect, which means that it is cooling in warm spaces, but it also retains the heat in cool areas. The fibers feels very soft, it breathes well and the fiber provides strong threads."





Bamboo is a sturdy grass that can grow in extreme weather conditions. Growing bamboo requires very little water, and no pesticides are used. At the same time, it is the fastest growing plant in the world. The bamboo plant absorbs five times more carbon monoxide than trees, for this reason, bamboo plantations have a purifying effect. Additionally, bamboo has an antiseptic effect, so no mold can occur. Urbanization has caused the number of mosquitoes to increase rapidly in the recent years. It is easier for mosquitoes to survive the winter in warmer areas and new exotic species are making their appearance. The tiger mosquito is an aggressive species that causes severe allergic reactions and can transmit a number of nasty diseases, such as Dengue, West Nile disease and Chikungunya. By spraying poison, mosquitoes become resistant. Sleeping under a mosquito net is the most peaceful and sustainable solution.


Aside from a mosquito net being functional, Saskia' vision is to allow a mosquito net to determine the atmosphere.